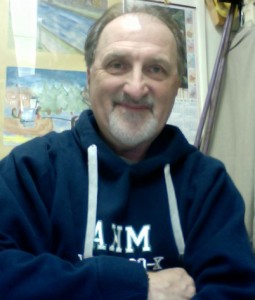 An interview with champion runner and coach Tom Fleming

by Nicole Riccardi
Tom Fleming is a "marathon original," one of the best at it back in his competitive days when he notably won the New York City Marathon (1973 & '75).  In his coaching days, he guided a number of national and world class athletes. He was the coach and founder of the three-time USA National Cross Country Champions Nike Running Room in Bloomfield, New Jersey. Currently, he is the head cross country track and field coach for girls and boys at Montclair Kimberley Academy, a private school in Montclair, NJ. Says Fleming, "Teaching is coaching and coaching is teaching, you are trying to teach kids if they study and work hard they'll do well. It's all about dedication in the classroom and in training."

Can you give a summary of your marathon history?
I ran a total of 63 marathons. My first one was in Boston in 1973 when I was 18, and my last one was in 1987 when I retired. If I knew what I know now, I wouldn't do it exactly the same but I don't regret it. A thirteen-year international career is a long time, and I feel very fortunate to have been able to withstand the training.

Can you review your accomplishments?

I was the winner of the 1973 and 1975 New York City Marathon, runner-up in the Boston Marathon in 1973 and 1974, finished 6 times in the top ten in the the Boston Marathon, won Cleveland, Toronto, Los Angeles, Jersey Shore (3 times), and Washington D.C. in the 1970s. At one point I held five American records; now I have one left, the 1970 national junior 30k, and it is the oldest record in the book.
It's good I was the kind of athlete driven by goals. You reach some of them and some you don't. My one regret is never winning the Boston Marathon. It's the best race in the game; it shows what marathon running is about. I remember when I was a kid that's the only marathon you'd hear about.

As of October, what phase of training should a person preparing for the New York Marathon be in?

Hopefully, you have already been doing several long runs. When talking about marathon training, the two questions I get asked most is "How far should I run?" and "How many times should I do this distance?" I wish there was one answer, but everyone does it differently. By the beginning of October though, you should be doing the longest run in your training cycle, and evaluating how far and how often you should do that run.
What is the most common, biggest mistake you see in first time marathon runners?

I'm going to assume your training went well and the training was appropriate, so my answer would be is that you run too fast your first half. I advise you to be totally under control for the first 15 miles, and you can always pick it up at the end. If you didn't train right then you're underprepared for 42 km/26.2 miles.
Is there any way to mentally prepare yourself for the 26.2 miles?

I think by having good positive training, training with which you see slow and gradual improvement month to month. I can tell you what to do, but you still have to go out and do it. If you look at your training over a 6-month period, my advice would be to maintain consistency and that consistency will make you confident for the marathon.
What have you personally found to be the most motivating aspect while completing a marathon?

My personal answer is the only reason to run the marathon is the competition part of it. Competition brought me to that level. I didn't go into a marathon saying I was going to run every mile at a 5-minute pace; it was the competition that pushed me. You are competing against yourself, the clock and the people around you. That is what makes the 26.2 miles so interesting for people. I like it when people tell me I'm really competitive because it means I'm going to give a good effort in training and a good effort in the race.
What is your training philosophy about long runs? Should any be the full distance of a marathon?

I never ran the full distance in training, and I never had any of my athletes do it. There is no magic number. I can say it's "on your feet" time. I train people to get used to being on their feet for the amount of time necessary. They shouldn't be so concerned about the pace, but rather slowly building up to the amount of time and or distance. As a coach, I look at it as a progression thing; some people struggle with it. Everything plays into it, so even if we have planned a 20-mile run in August, if it's a horrendous weather weekend, we can make up for it another time. I don't want my athletes to think if they don't get in that run they will be unprepared. The average person running New York takes about 4 and a half hours, and that's a long time to do anything! It's not about killing yourself in training; it's about your body adapting to the stress of going out and doing it. It's all about gradual progression. Are you prepared to be on your feet for that amount if time? There are no shortcuts or I would have found them already.
My daughter is running right now in Manhattan, and she has something in her shoe that allows her to talk to me on her Iphone. These things didn't exist in my time; I didn't talk to anyone when I was running. It's good to go out and run by yourself sometimes because you can think about what you're doing and relax.
Do you have any advice regarding marathon equipment? What has worked for you?

This part of the running world has changed and improved so much I just shake my head. Equipment now is a thousand times better than I had when I was training. The shoes I wear today to stand and coach are better than I the ones I trained in. Find a comfortable pair of shoes that works for you. If you like color/style, that's fine, but overall your choice needs to be based on comfort. Once you find a shoe that works for you, stick with it.

How should a runner choose what marathons to participate in? (Competition, charity, etc.)

I think it's easier today because we have the Internet. I still advise people to talk to other runners, of course. You want courses not extremely hilly but not completely flat, and the weather to be good, so it will probably start early. The Boston Marathon used to start at 12pm when I ran it! First time marathon runners should look for places conducive for athletes to run their personal best.
Do you have any inspirational marathon stories you could share?

This morning I was at Brookdale Park (NJ) where I train and coach, and I was telling some people I just found a video of the 1974 Boston Marathon where I got second for the second time. I was in great shape, very well prepared, and I was going to Boston the third Monday of April. The Tuesday night before that race, as I was running a run I have done a million times, I stepped in a hole and twisted my ankle, so I never ran a step until that Monday morning. It looked pretty bad and was black and blue. Did it hurt me in the marathon? I don't think it helped me, but that one little doubt in my head could have been the difference. Things happen in life, and if I could go back in time and change things I wouldn't go running that night, but going out and having your mind set on something is what it is all about. It didn't bother me the day of the marathon, that I can remember. I just got beat by Neil Cusack who ran a better race than me. You never know what is going to happen. That's why you have to give it a shot and put in the effort. Young kids may not be confident, but if they put the effort in and never ever give up, they never know what will happen.
As the New York Marathon draws closer, what advice do you have for people who are running it for the first time? What about those who want to try and improve their time?

Don't get sucked out with the crowd. The biggest, longest hills are in the first mile and so many people go too fast. The biggest mistake you can make is going too fast. It's a hard course with lots of turns and ups and downs. There are so many courses for beginners. Chicago, Boston, NY, LA all fill up in 48 hours, so you have to have an alternative plan ahead of time when you are signing up. It's getting harder to get into these races. You not only have to train for it, you also have to make sure you can get into the race. In my opinion, New York is too hard for the first time. The Wine Glass Marathon in NY is one of the best kept secrets around. There is also the Rhode Island Marathon. There are a lot of marathons in the fall but you can still catch a warm day. The worst enemy of any marathon runner is heat and humidity, so look for one in late October, early November. When I ran New York it was in September and it was brutal. You want 50- to 60-degree weather, not 70- to 80-degree weather.
Is there anything else that I might of missed that you think is important to get across to people in marathon season or anything else you might want to add?

I think if you spent the last 6 months to train for a marathon, don't be afraid to enter in other races along the way, whether it be a 5k, a 10k, or a half marathon. I encourage these races so you are used to running with others. When you train you may used to running with one buddy, and in the marathon you are now running with 40,000 people. Running a half marathon a month before the marathon wouldn't be a bad idea. Also, beginners need to see training is doing something and moving them in right direction. Mind games play a huge role because the marathon can be intimidating for people.
I ran the marathon because I was better at it then any other event. I had to train very hard for where I wanted to be. I took little steps and made bigger goals. I understand I am relating my international career to a beginner, but once I was a beginner too. A lot has to do with attitude and competitiveness. I admire anyone who does the training to finish the 42km. I want the average person who runs a marathon to realize it's not about the day of the event; it's the 6 months or more leading up to it that make the effort so wonderful. A person from the outside looking in can only see that one day, and they don't fully understand what lead up to it.