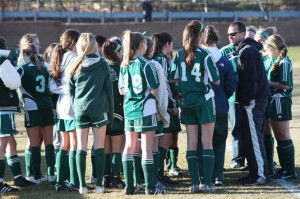 Paul Raiz, head varsity girls soccer coach at Livingston High School (New Jersey), lead his team to the Essex County Championship title in 2010. Raiz, a biology teacher at the high school, has the benefit of having been a competitive athlete himself. Says Raiz, " I love dealing with high school kids, that's why I'm a high school teacher. Everything they learn in high school–maturity, growing up, makes it that much more fun to also coach them in sports."


As a student athlete yourself, were you successful balancing schoolwork and a sport?
Yes! I absolutely was successful. In high school I was a four-year varsity letter winner in soccer; I played basketball for three years; my first year I played golf and my second year I played baseball. So, depending on the year, I was a two or three season athlete. Academically, I finished in the top ten in my class. I also played soccer three years at Drew University (New Jersey). I obviously know the rigors of academics and athletics from my own experience.
How were your academics affected by your sports schedule?

I was absolutely more successful with my academics when I was in season. I think you really have to manage your time. You have very little time outside school and sports to actually get your work done, so you have to make sure you are not wasting it. When you are not in season, I have found that you waste a lot of time. When you are playing a sport, you don't have that luxury of time to waste.
As a teacher, do you think you adapt your expectations of student athletes?

Yes. It can be hard, but I try as best as I can to treat everyone equally. My expectations may be even higher for the student athletes. I understand the time constraint, but they represent the school and community so I set them to even higher standards. I'm less likely to accept when they use their sport as an excuse to under perform academically.
What kind of students have you found to be successful balancing school and a sport?

Student athletes are the best at balancing both. There are a number of different factors students must have to be successful. They must be organized, responsible, good at budgeting time, driven, and motivated to be successful in both academics and athletics. It doesn't mean that they have to be the smartest. The ones that successfully balance both are diligent and driven to succeed and don't waste their time.
Do you think it is possible to achieve academically, play a sport, get the proper rest and balance the rest of life?

Absolutely! I stress family comes first, then academics, and then the sport comes third. On paper, it sounds like a lot. I think it is still possible to do it all. It takes a lot of work and energy but young kids definitely have that. I wish I still had some of it! I think it's a great time in young people's lives. In middle school and high school you have lots of responsibilities but the weight of world is not on you yet. I think religion plays a role in it as well, but it is all definitely manageable and doable.
Is academic success different depending on what sports an athlete plays? If so, which ones stand out?

I think there are some sports that are more physically demanding and time consuming then others. Football practices are obviously very long with such a packed schedule. Soccer is right up there though. Football is aiming for one game a week, whereas soccer has several. While many may struggle to play three sports in high school, I stress to at least play two. Play your sport and another sport because it keeps you motivated not to waste your time.
Who would you consider to have been the most successful student athlete you have worked with and why?

I have been very fortunate especially with the Livingston Soccer student athletes. There are girls that win all-county and all-state and these same girls are in the top ten percent going to universities such as in the Ivy League. Many girls I have coached are attending top universities, so they are clearly performing academically as well athletically. It's good to have parents behind them, driving them, and laying groundwork to keep them motivated in the classroom and on the field. I have been fortunate that one of the few worries I have is from the girls not performing in the classroom or doing well.