John Fabbro is the owner of Fleet Feet Sports in Montclair, NJ. For the past 23 years, Fabbro, a runner himself, has been counseling runners, walkers and others in the Northern New Jersey area on the best gear for their activity. Here he both models and reviews what's "hot" for summer wear.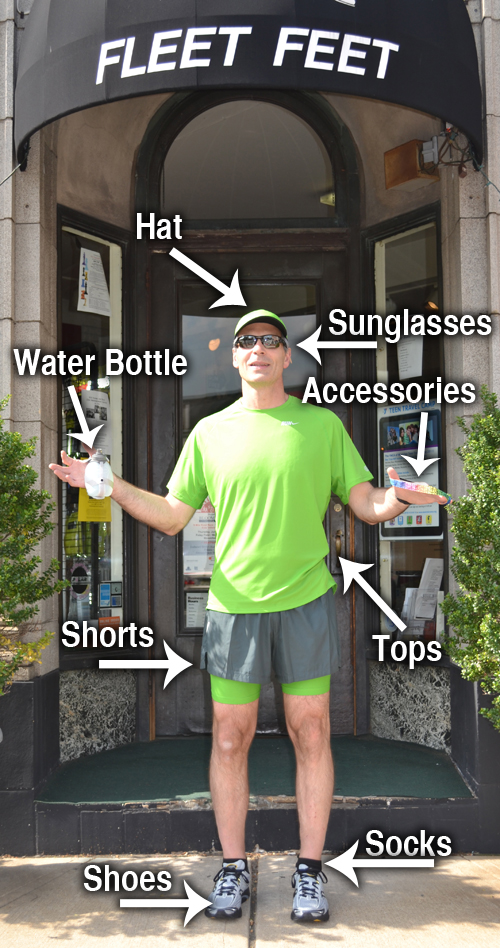 SHOES
The big buzz in footwear is minimal shoes. In theory, they are for the "more natural gait". The extreme is the barefoot model (which look like socks). Fabbro thinks a compromise version is best—a shoe with a lower heel, but not completely without support. His philosophy is that these are not shoes for every day, but rather, for a small percentage of mileage.
SOCKS
Socks are the most neglected part of the outfit, says Fabbro. "If you spent $100 on shoes, you should wear a good sock. It just makes everything feel better." A minimal shoe would take a lighter sock, but there are specialty socks that come in every height and thickness. And these well-made socks seem to last forever!
SHORTS
Short length is an issue, especially for guys, according to Fabbro. Shorts have gone back and forth between long and short. For a while they were very long, now they are shorter, with an average inseam length of 5 inches. A new option is the compression brief with a shorts attached. A "two in one" short that Fabbro says grew out of a generation who wore compression shorts under their sport shorts. These are also a good option if your shorts tend to ride up.
TOP
Once, a popular seller was a sleeveless shirt; now, that's out of favor. A short sleeve shirt or tank is in, made of light-weight synthetic material that wicks away moisture. Bright colors in shirts and in all gear are also in this season.
HAT
A quality lightweight hat is a bonus for sun protection. Fabbro sells a lot more hats than visors, especially for guys. Hats are now made with mesh as well for moisture wicking.
WATER BOTTLE
Why hunt for a water fountain when you can carry your H2O in your hand? It used to be water bottles were worn on the waistband, but now they make them handier—as in carried in the hand. Fabbro demonstrates the new trend in smaller bottles, a top seller for him, this one with a Velcro strap to keep it in place, and with a slot for a key.
SUNGLASSES
These are a must to cut the brightness of the sun, and to protect against eye and skin cancer damage. Wrap around, lightweight, non-slip glasses are specifically made for sports. The technology provides less distortion by a changing thickness on various parts of the lens.
ACCESSORIES
There are lots of options to accessorize, but one that's popular is a headband worn on the forehead to block sweat. A special inside material prevents the headband from slipping or moving.