Dr. Stephen A. Hunt of Bedminster Orthopaedics & Sports Medicine (NJ) graduated in 1996 from Yale, where he was a four-year letterman in lacrosse. He then entered medical school at the New York University School of Medicine, where he graduated as a member of the Alpha Omega Alpha Medical Honor Society. Next, he completed his residency at New York University's Hospital for Joint Diseases in New York City. During his training, he worked with several professional sports teams and performance groups, including the New York Mets, the Denver Broncos, the United States Ski Team, and the Alvin Ailey Dance Company. In 2008, Dr. Hunt was one of the team physicians for Sky Blue Soccer's W-league team, Jersey Sky Blue. He is currently the team physician for Ridge and Pingry High Schools, both in New Jersey.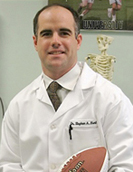 Q: What is your personal athletic background?
A: I played football and lacrosse in college. These days, although I don't play organized sports, I work out a lot, and I'm recreationally involved with playing with my kids (ages 7 and 5).
Q: How does your sports background inform your professional life?
A. As a high school student athlete, I had the unfortunate experience of some minor injury. I lived across the street from the Hospital for Special Surgery (Manhattan). I was treated there, and that opened my eyes to the world of orthopedic surgery.
I think having played sports at a high level, and having been injured, I understand the drive for both the teenager and adult to be fit and to accomplish as much as they can. I look at all the athletes that come into my office and I can identify with their injury problems and how that affects them both mentally and physically. It is the enjoyment of being able to work out and compete, as well as their physical well-being, that is so important to them. Whether the injury is minor or significant, I can identify with wanting to get back to the same, or even better, level of activity.
Q: What trends do you see in your line of work?
A. There are two. One is that young athletes are playing a single sport year-round at an early age. The other is that 30- to 60-year-olds are looking for ways to continue to maintain physical fitness, whether through cardiovascular-type events such as triathlons, or with kettle bells, cross fit, P90X or other physical fitness programs.
Although I don't have a problem with single-sport participation per se, we are seeing more overuse injuries among the younger population. I think it's due to having little "down time" from sports. Part of that is due to sports marketing. There's a popular concept that to be great, you have to do 10,000 hours in something.* The second component is that you see sports stars so widely publicized. Sports has become a multibillion dollar industry. Whether you believe sports should be that valuable in life is controversial.
In the older group, we also tend to see overuse injury. As the body metabolism changes, we have a reduced ability to repair muscles and strains from tendon damage and bone remodeling. Part of working out is pushing your body and getting into much better shape. But the musculoskeletal system has much less ability to repair itself. Maybe it is generational, but no one wants to slow down. Everyone is becoming more addicted to working out, which is not necessarily a bad thing, but for quality of life it can sometimes be a bad thing.
Q: Are there gender differences in injuries?
A: In the younger age group, we see it is much more common for the ACL to be an issue in the female than male athlete, with a higher likelihood in soccer and basketball. Additionally, younger women have more issues in the front of their knee, the patella. There are a lot of theories (for both conditions), the main one pointing to an anatomical issue in the knee, as well as hip and foot alignment and hamstring flexibility. In addition, females may have some looseness of the ligaments, called laxity.
But in the older age group there is not a specific distinction between male and female. However, we tend to see a little more mechanical arthritis in the knee in active males in the 30- to 50-year-old age group.
Q: Are some sports doing a better job at keeping athletes healthy?
A: I can't site one sport. I think there's a much better awareness in terms of primary care, and among athletic trainers, about simple intervention in much younger athletes. This would entail such things as trying to improve core strength, jumping ability, etc. Sometimes it is coach-dependent on how they integrate pre-season activity, to get the athletes ready to go.
Q: Are there some basic differences you've seen between youth and pro levels?
A: I feel the high school athlete, for the most part, is just as competitive as the professional. There is an intensity in both groups that's very significant. On the sideline of a high school football game, it's just as intense as it would be for any athlete. The high school athlete may get to higher levels, but for that moment, it's as high a level as there is.
Q: Is there one piece of primary advice you would give to athletes?
A: This is the advice I would give to someone focusing on an injury. Injuries can be devastating, in season in particular, not only from a physical point of view (i.e. pain, difficulty to move), but also from an emotional one. There is a fear of missing something, of not being part of the season. That's a lot of pressure for young athletes and even older athletes feel it. The key component is to recognize that the human body has an amazing way to heal.
If you're a patient, work particularly on flexibility, which I think is probably the most important thing we can do for ourselves to help out our bodies. I think most people can get back to a very high level of competition. They just have to weather the storm of decreased activity. There is always that light at the end of tunnel. I am always very reluctant to tell my patients they have to stop forever, but at some point they may have to stop for a short period.
*From the bestselling book Outliers, by Malcolm Gladwell. The "10,000-hour rule" is his theory that is the amount of time needed to perfect a skill.