April marks the introduction of the Points Sports Health "Doctor of the Month" award. This award goes to a distinguished member of the medical community who has displayed a special commitment in their field.
DOCTOR OF THE MONTH—TIMOTHY HOSEA, M.D.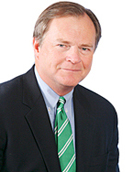 Dr. Timothy Hosea of University Orthopaedic Associates in New Jersey obtained his medical degree from the University of Cincinnati College of Medicine, after earning his undergraduate degree from Harvard University, where he participated in crew. He completed an internship at the Peter Bent Brigham Hospital, and his residency at the Harvard Combined Orthopaedic Program at Massachusetts General Hospital. Dr. Hosea then completed a fellowship in sports medicine at the Brigham and Women's Hospital. He was the team physician for the U.S. Olympic Rowing, Canoe/Kayak, and Cycling teams at the 2000 Olympics in Sydney, Australia and his currently orthopaedic consultant and team physician at Rutgers University. He was elected by his peers for inclusion in Best Doctors in America® from 2001 to 2010 and received the Patients Choice Award from American Registry 2009. He is the author of numerous articles and professional presentations. PSH had an opportunity to talk with Dr. Hosea about a theme important to all of us—being "fit for life."
Q: What can the aspiring athletes, or even serious recreational athletes, learn from the Olympians and professionals you treat?
A: I think with any athlete—whether "weekend warrior" or professional—if you don't use it, you lose it. If you continue to pursue your interest or activity, you will be able to do so for as long as you like in many cases. For example, I think what we're seeing for Olympians in rowing is that people are peaking much later than they used to because they continue to participate in their sports. The difference is, athletes used to peak and then their life would "take over," and they weren't able to compete any longer. Now, people are able to continue training into their 30s, and they get better and better. Look at Dara Torres (swimmer who at age 41 won three silver medals in the 2008 Olympics). If you continue to work at your activity—and granted you have your life responsibilities—you can still participate at a high level.
Q: Is there something we can do to sustain this lifelong activity we're not currently doing as a population?
A: At some point, certain sports may cause degenerative changes to the joints and prevent continued participation. Yes, you can strengthen the core and do other strengthening exercises, but going forward, we will all have to find activities with less physical stress on the joints and back. There is only so much stress the body can take.
Q: You mean there aren't a lot of Jack LaLanne's out there?
A: There can be a lot of Jack LaLanne's. He was able to be so active into his 90s because he kept working at it. He never stopped. You just have to find out what you can do, and what you enjoy. I don't have the physiology of a long distance runner, for example, but I still have the ability to keep working out and be active and in shape the rest of my life.
Q: What is latest development on the horizon of orthopedic sports medicine?
A: The latest development, which is right around the corner, is in single stage arthroscopic articular cartilage repair– that is, fixing the "potholes" in knees. This problem occurs from trauma to or wear and tear of the surface of the knee known as the articular cartilage. The goal of the process is to replace, or fill in the affected areas in one step and use minimally invasive techniques. Currently, these holes, or fractures, are filled in such a manner using a microfracture technique which results in the growth of fibrocartilage that is not as sturdy or long-lasting as long as your own cartilage. The current process for using your own articular requires two operations and considerable surgery. The new method harvests your own articular cartilage and immediately put it back. This is relevant to all ages and level of athletes, but also to the general population. It's not an uncommon problem in the active population. The FDA has expanded the clinical studies to include more subjects and I've been very encouraged with the preliminary results. The solutions for this problem of damage to the surface of the knee are beginning to improve. We are striving to put the joint replacement surgeons out of business.
Q: Is there something in physiology we need to pay attention to?
A: Yes, in terms of your muscle fibers. What you don't want is for your muscles to turn into "couch potatoes." If you don't use your muscles, they degrade. But the good news is if you start using them again, they rejuvenate.
Q: What is the major drawback with people regarding their sport?
A: That they don't have an activity they will likely continue with for life. Football is a great sport, but you can't play football for the rest of your life. It's nice to have an activity, such as running, swimming, or cycling, that has mass participation, or a masters program (for those older, usually over 40). While availability is getting better for team sports (such as soccer, basketball), many of them don't really have masters programs. I think if you have a sport you enjoy, you should continue doing it for as long as you can. The key is to find something you love to do.
Q: How does a coach or parent guide youth in this area?
A: You want to help young people develop a love of exercise. You have to get them addicted to endorphins (the "feel good" brain chemicals released through physical activity such as exercise and sports). You have to get your kids exposed to something they like to do, and with people they like to do it with. The important thing is that you want to create an enthusiastic environment for activity. Kids are going to have to want to do it; you can't force them. They need to be in a situation where they can't wait to get to practice.
Q: What kind of physiological issues does early specialization cause?
A: Flexibility issues, and certain back problems are notorious in certain sports—such as gymnastics, rowing, football, and wrestling. And this, together with things like shoulder problems, can be lifelong issues. So you want to establish and maintain a balanced conditioning program, with flexibility included. A lot of kids are specializing in a sport too young without a full sampling of activities. I think we should expose our children to every possible sport up to high school age. And then in high school they can consider specializing.
Q: What is the most important single piece of advice from a medical point of view you can give to athletes, whether they are youth or adults?
A: You can't do it all in one day. Ten percent increase in volume of activity per week is the guideline. January roles around and it's the New Year's resolution to get in shape by February, and this is a big problem. The same thing happens in September, when we see people getting ready for the New York City Marathon in November. They go online and find a program and follow it on their own. It's a "cookie cutter" program, which may not be the best for the individual. So I recommend a professional to guide them.