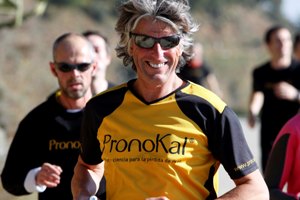 We choose MarathonMan Stefaan Engels as our Athlete of the Month not necessarily as an endorsement of his feat for the average runner, as much as for the underlying message of health, fitness and human possibility that his achievement represents.
Engels, a 49-year-old man from Belgium, ran a marathon every day for a year,  for a total of 9,569 miles, and a new Guinness Book of Records entry, supplanting Akinori Kusuda, a Japanese runner, who completed 52 marathons at age 65 in 2009. He completed his final marathon in Barcelona in February, having run races in Belgium, Spain, Portugal, Canada, Mexico, the UK and the US. Mexico's high altitude proved his toughest challenge, disrupting an otherwise ordinary schedule of eating whatever he choose, and sleeping 12 hours a night.
Engels mission was to show people that a bit of fitness activity per day is entirely possible, particularly for a man whose childhood asthma lead to being told to avoid activities like running.
Engels is an experienced runner with two decades of marathon experiences, and made the Guinness Book of Records in 2008 when he completed 20 long-distance triathlons.  Each marathon during his year-long schedule took an average of four hours, with his fastest time being two hours and 56 minutes.
You can check out Engels on his website, http://www.marathonman365.be/