By: Nicole Riccardi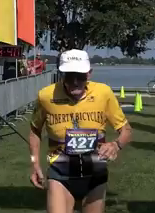 We have all heard the saying, "It's never too late to start", but Charles Futrell added a new dimension to this maxim on June 11th when the 90-year-old became the oldest man in America to complete a triathlon. His accomplishment earned him the Points Sports Health Athlete of the Month.
Futrell, a former teacher and coach, did not become an athlete until after his retirement from teaching. Now his daily training regimen alternates running with swimming and biking. He has no plans to stop training and competing in the near future.
In the recent Central Florida Triathlon Futrell completed the challenging 440-yard swim, ten-mile bike ride, and three-mile run in two hours, 18 minutes and 38 seconds.
So the next time that you flirt with the idea of bagging your workout, or cutting short your run, remember that our Points Sports Health Athlete of the Month, 90-year-old Charles Futrell, is out there getting in his work. If he can do it, what's your excuse?