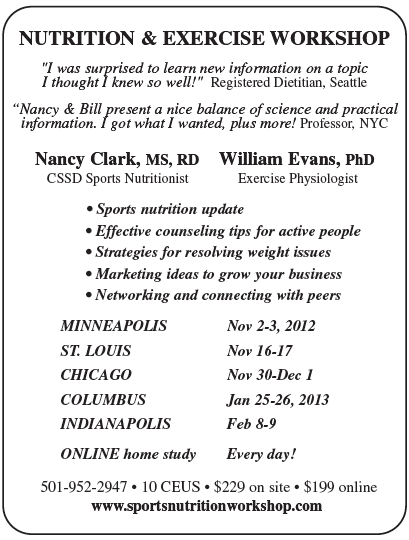 "Nancy Clark and Bill Evans present a nice balance of science and practical information. I got what I wanted—plus more!"
Here's your chance to learn how to enhance your sports performance while enjoying an information-packed workshop with two internationally known professionals:
Sports nutritionist Nancy Clark MS, RD, CSSD is renowned for her work with counseling athletes and exercisers.
Exercise physiologist William Evans PhD is respected for his research with protein, weight, and aging.
They will be offering a 1.5-day program that is designed to help health professionals (sports nutritionists, personal trainers, coaches, athletic trainers, exercise physiologists, and sports medicine specialists) learn how to effectively teach a winning nutrition message.
Athletes themselves are also welcome, and will find answers to their questions about how to–
-fuel for high energy and enhanced performance.
-choose the right balance of carbohydrates and protein
-lose weight, build muscle, and find peace with food.
Save the dates:
Minneapolis, MN Nov 2-3, 2012
Woodwinds Health Campus, Woodbury, MN
St. Louis, MO Nov 16-17
St.Louis Univ., Allied Health Building
Chicago, IL Nov 30-Dec 1
Rush University, Armour Academic Center
Columbus, OH Jan 25-26, 2013
Bing Center, Columbus OH Health Riverside Campus
Indianapolis, IN Feb 8-9
National Institute for Fitness and Sport
ONLINE (home study) Every day!
"I was surprised to learn new information on a topic I thought I knew so well."
–Registered dietitian/personal trainer, Seattle
See www.sportsnutritionworkshop.com for more details.
The workshop is available as a home study if you cannot attend in person.
Cost: $229; $134 full-time students and dietetic interns; $199 online
CEUs for health prodessionals (10 hours of education):
AND, ACSM, AFAA, ACE, NATA, NSCA, CHES
For more information and to register: www.sportsnutritionworkshop.com
E-mail: [email protected]
Phone: 501-952-2947