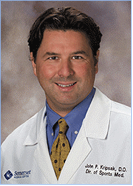 John P. Kripsak, D.O.

Orthopaedics
Dr. Kripsak is a New Jersey native and a physician at Bridgewater Medical Group. He earned his medical degree from the Kirksville College of Osteopathic Medicine, after earning his undergraduate degree from St. Joseph's University. He completed his internship and residency at Sun Coast Hospital in Largo, FL. Dr. Kripsak is board certified in both family practice and sports medicine.
Dr. Kripsak currently serves as the Director of Sports Medicine Services at Somerset Medical Center. He has worked with several New Jersey school districts as a team physician and chief medical inspector. He is the associate team physician to the Somerset Patriots Baseball Team. Dr. Kripsak is also a clinical faculty member at UMDNJ-Robert Wood Johnson Medical School and Somerset Medical Center.
Practice Overview
Bridgewater Medical Group is a family practice that has provided the highest quality gastroenterology, sports medicine, and internal medicine services to New Jersey for over 20 years. With expertise in treating patients of all ages, the physicians at Bridgewater Medical Group strive to build a relationship with the community to inform, educate, prevent, and treat injuries and illnesses.